Last updated June 7th 2018
Israel on Monday announced that it has delivered emergency aid to Guatemala following the deadly eruption of a volcano that left 25 people dead.
The Volcan de Fuego ("volcano of fire") in southwest Guatemala erupted on Sunday, sending hot lava down the mountain's flank into nearby villages and spewing ash. Eighteen people were initially declared dead but that number increased by Monday morning, with authorities fearing a further rise in the death toll. The country's disaster relief agency, CONRED (Coordinadora Nacional para la Reducción de Desastres), said thick clouds of smoke reached nearly six miles into the air, according to CNN.
Praying for Guatemala 🇬🇹

One of Central America's most active volcanos erupted in #Guatemala, killing at least 25 people and injuring dozens. pic.twitter.com/N2vS3Kb7Xc

— Hananya Naftali (@HananyaNaftali) June 4, 2018
The Israeli Foreign Ministry said medicine, food, and blankets were delivered through its embassy in Guatemala, and that further aid may be provided after an assessment with local authorities later Monday.
"We follow with worry the eruption of the Fuego volcano in Guatemala. Our hearts go to the victims and their families. From Israel we extend solidarity and friendship," said Foreign Ministry spokesman Emmanuel Nachshon on Twitter.
Israel's Ambassador to Guatemala Matty Cohen wrote in Spanish on Twitter that on behalf of the Israeli government, he was expressing "solidarity with the people and Government of Guatemala" following the deadly volcano eruption. "My condolences to the families of the victims. May God bless Guatemala," he said.
CONRED said that more than 3,000 people have been evacuated and assessed that the eruption will ultimately affect more than 1.5 million people, CNN reported. CONRED director Sergio Cabañas told a local radio station that an entire village was feared buried.
"Unfortunately El Rodeo was buried and we haven't been able to reach the La Libertad village because of the lava and maybe there are people that died there too," he said, according to the BBC.
#PNCProtegerYServir Elementos de nuestra Policía Nacional Civil continúan en la búsqueda y rescate de personas que han resultado damnificadas por el #VolcánDeFuego en la aldea El Rodeo en Escuintla. Hasta el momento han rescatado a niños y adultos pic.twitter.com/JxOdkl0xih




— PNC Guatemala (@PNCdeGuatemala) June 4, 2018
Authorities were still conducting search and rescue operations.
Harrowing images and videos of the volcano eruption and its aftermath were circulating on social media, some showing billowing smoke and entire areas covered in ash. One survivor described her escape in a video released by CONRED.
"Not everyone escaped, I think they were buried," Consuelo Hernandez, covered in ash said in the clip, released to the media. "We saw the lava was pouring through the corn fields and we ran toward a hill."
Guatemalan President Jimmy Morales declared three days of national mourning following the disaster.
Israeli-Guatemalan ties have grown increasingly close in recent years. Last month, Guatemala followed the United States' lead and became the second country in the world to move its embassy from Tel Aviv to Jerusalem, Israel's capital whose eastern part is also claimed by the Palestinians as a capital for any future state.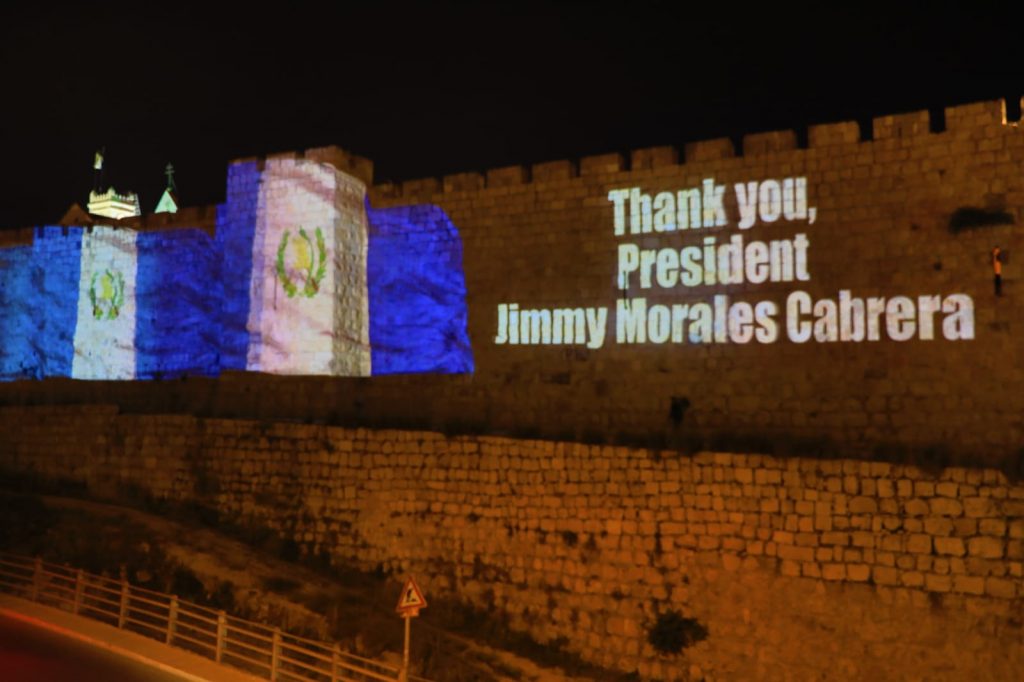 Prime Minister Benjamin Netanyahu and his wife Sara attended the ceremony for the opening of Guatemala's embassy last month, with the Israeli premier hailing "the spirit of friendship and a common bond" between the two countries and thanking Morales for the move, considered highly controversial by the international community.
Israel has routinely sent relief and humanitarian missions across the world and is often the first or among the first to respond to crises and natural disasters.
In January, an Israeli medical team set off for the Eastern African nation of Zambia where a deadly cholera outbreak was wreaking havoc. The Israeli team was the first to respond to the medical crisis.
Israeli teams were on the ground in recent years leading relief missions in a number of disaster-struck areas including Mexico in September 2017, following a massive earthquake that left over 300 people dead, Puerto Rico during the same period following a hurricane, Nepal in 2015 after a devastating quake killed over 9,000 people, the Philippines following a typhoon in 2013 that killed over 6,000, and Haiti in 2010 following a catastrophic earthquake that killed over 100,000 and as many as 300,000, according to some estimates.