Last updated July 2nd 2015
It's time to hit the court with Pulse Play, a new Israeli smartwatch and app for racket sports players who are looking for a real game-changer.
Founded by former Israeli Grand Slam champion Andy Ram and entrepreneur Enon Landenberg, Pulse Play aims to create a global network for some of the 275 million amateur tennis, badminton, ping pong and squash players. "The Facebook for racket sports players," as Ram calls it, will offer services and resources normally reserved for the pros – using nothing but a smartwatch and a mobile app.
SEE ALSO: Will Israeli Tennis Analytics Technology 'SmartCourt' Change The Way We Play The Game?
Pulse Play's smartwatch can keep and announce scores in real time with the click of a button, record players' match histories and game stats, connect nearby players looking for same-level opponents, and keep track of ranks at the local, regional, and even international level – for the retail price of $125 for a single Pulse Play or $200 for a pair of Pulse Play watches. The mobile and computer apps, where scores are stored, stats recorded and ranks established, are free.
The app comes loaded with fun features, like achievement badges for "winning five matches in a row" or "beating your mother-in-law," as well as different voice options to announce scores –  including Elvis Presley, Homer Simpson, Arnold Schwarzenegger, and many more. Two potential downsides of the product are that it requires an internet connection on the court and that both players need to have a smartwatch.
Where technology and racket sports intersect
Pulse Play is not the first smartwatch on the market geared towards improving the racket sports experience. For example, Apple's popular Apple Watch offers apps such as Tennis Watch, which provides simple score tracking; and Smash Wearable, a smartwatch that offers similar features for tennis players, such as keeping scores during matches.
However, Ram is convinced that Pulse Play is different. "Our competitors are dealing only with the scoring problem or only with the problem of finding a partner who plays at the same level," he tells NoCamels. "But our product is a solution to both problems and one that will hopefully create a community of tennis players."
SEE ALSO: The Top Israeli Apps Taking Over Apple Watch
A Pro Athlete Turned Entrepreneur
Ram's transition from a pro tennis player to an entrepreneur is relatively recent. With three Grand Slam championships under his belt, Ram officially retired in September 2014 after his last match against Argentina in the Davis Cup. While he had a few offers to stay and coach in the tennis world, he decided to take a different route.
During the six months following his retirement from the sport, Ram met with investors and business people who wanted him to invest in everything from clothing stores to restaurants. It was Landenberg, however, who won Ram over with the idea that became Pulse Play. "It has certainly been an interesting transition," Ram says. "But it's not my first business experience. Even back when I was playing professional tennis, I was managing teams of people: Paying, hiring, and firing. I also used to manage the sponsorships and the relationships with companies I was working with. But this is by far the most public business venture I've been involved with, and the most exciting one."
Small factory, big ideas
To turn his idea into reality, Ram partnered with Landenberg's venture building team, sFBI (Small Factory Big Ideas), a small team of experts that builds startup ideas to a point where they can operate independently; a startup incubator, if you will.
The Pulse Play team was formed in November 2014 and the progress ever since has been rapid. In just six months, Ram and his small team of a handful of employees developed the first-generation prototype and the app, and have launched a successful crowdfunding campaign where supporters raised funds by pre-purchasing Pulse Play units or purchasing opportunities to meet and even take lessons from Ram himself. These "early backers" will get to test the first batch of slick and colorful Pulse Play smartwatches in September 2015, months before their debut on store shelves in June 2016.
The Indiegogo campaign, which recently ended, raised $77,800, funds that will be used to manufacture the product and facilitate its journey to the shelves. But the funding efforts do not stop here, as the Pulse Play team is looking to attract more investment through private financing rounds. Ram declined to comment on the specifics.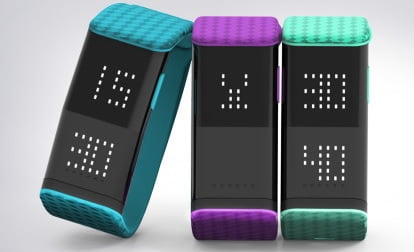 In the next couple of months, Pulse Play will launch a marketing campaign in the US. The company is reaching out to tennis players, coaches, clubs, and leagues. "We're a startup with limited resources, and it would be a mistake to fire in all directions for the time being," marketing manager Natalie Edwards tells NoCamels.
According to Ram, there is a growing interest in Pulse Play within the circle of professional tennis players with whom he keeps in touch. "I can't drop any names right now, but a lot of the players I spent time with on tours know what I'm doing and frequently send messages of support."
Ram is already thinking of the next steps for the Pulse Play product. "We are thinking about adding even more features on the second-generation models to calculate how much you run on the court, to track your heart rate and to advise you on what to eat before a match. We are always trying to improve."
Photos: Pulse Play, Sporti