Last updated May 25th 2015
This body is what we are; thoughts, feelings, all begin in the body. It is something so natural, so organic and effortless that it is easily forgotten. Dance awakens and reawakens this knowledge within me. Not all dance, and not in every moment; but those moments when I am suddenly aware of my existence as a thinking, feeling, body – and our collective human existence, each in our individual, complex, powerful and vulnerable bodies – those moments draw me in, time and again, connecting me to dance.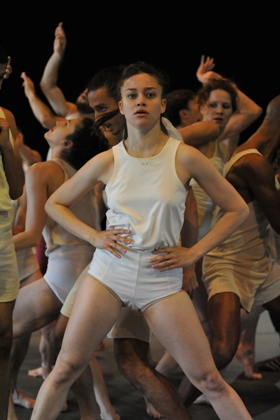 Last Work/Photo: Gadi Dagon
Ohad Naharin's provocatively titled Last Work will hold its world premiere at Suzanne Dellal on June 1, 2015. Although I have not seen the full work, a preview look at the first twenty minutes with its enigmatic runner in a long blue dress, serpentine undulations and sharp contrasts, inspired a multitude of associations, sensual pleasure, and a deep curiosity to see more. As one of my fellow audience members eloquently stated: "Wow!"
Last Work/Photo: Gadi Dagon
Naharin introduced the work this past Tuesday, May 19th, continuing his admirable tradition of saying little, and showing a lot of the work. In addition to the first 20 minutes, the audience was treated to a taste of the final fifteen which were very intriguing as well, and, not to over-interpret the fragments, appeared to contain references to previous works. Something to ponder for the Batsheva fans familiar with Naharin's oeuvre. About that title, as a Hebrew speaker, I can't help but note that in addition to the drama inherent in "Last Work," the Hebrew words contain two meanings: last as in final, but also the more casual last as in latest, most recent. Playful.
Photo by Maxim Waratt
Last Work by Ohad Naharin
With Batsheva Dance Company dancers: Olivia Ancona, Billy Barry, Mario Bermudez-Gil, Omri Drumlevich, Bret W. Easterling, Iyar Elezra,Hsin-Yi Hsiang, Rani Lebzelter, Ori Moshe Ofri, Rachael Osborne, Shamel Pitts, Oscar Ramos, Nitzan Ressler, Ian Robinson, Or Meir Schraiber, Maayan Sheinfeld, Zina (Natalia) Zinchenko, Adi Zlatin
Lighting Design: Avi Yona Bueno (Bambi); Soundtrack design and edit: Maxim Warratt; Original Music: Grischa Lichtenberger; Stage Design: Zohar Shoef; Costume Design: Eri Nakamura; Assistants to Ohad Naharin and Maxim Warratt: Ariel Cohen, Guy Shomroni; Additional Music: Few Mysteries Solved in a Year of Contact- Sagat// Club Life – Hysterics // Crusty Juice – MPIA3// ‎Volume VIP- Monkey // Tantrum –Luminox; Running trainer: Mark Or
65 minutes, without intermission; Produced by Batsheva Dance Company. Co-producers: Festival Montpellier Danse; Hellerau-European Center for the Arts, Dresden; Supported by Batsheva New Works Fund and Dalia and Eli Hurvitz Foundation
Performances: Monday, 1.6 at 21:00; Tuesday, 2.6 at 21:00; Wednesday, 3.6 at 21:00; Thursday, 4.6 at 21:00; Friday, 5.6 at 14:00; Saturday, 6.6 at 21:00; Monday, 6.7 at 21:00; Tuesday, 7.7 at 21:00; Wednesday, 8.7 at 21:00; Thursday, 9.7 at 21:00; Friday, 10.7 at 14:00; Saturday, 11.7 at 21:00; Tuesday, 14.7 at 21:00; Wednesday, 15.7 at 21:00; Thursday, 16.7 at 21:00; Friday, 17.7 at 14:00; Wednesday, 22.7 at 21:00; Thursday, 23.7 at 21:00; Friday, 24.7 at 14:00; Saturday, 25.7 at 21:00
Tickets may be ordered online, via the Batsheva Dance Company website