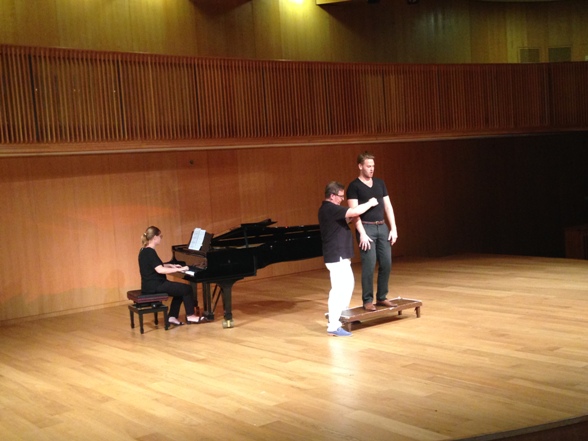 John Norris works with Josh Whelan on the Toreador Song. 'This is my arena!'/Photo: Lior Levy
It's been a busy week at the International Summer Opera Program in Tel Aviv, where a talented handful of singers from Israel and abroad have been perfecting their technique with some of the world's most in-demand coaches. The fruits of their labors can be witnessed in several performances this week and next – two operas, children's concerts, masterclasses and last but not least – the competition.
Going to an opera staged by the singers and coaches of the Summer Opera Program is always an adventure. The small performance space creates a more intimate atmosphere, so that even familiar works suddenly reveal details we might have missed before. This year, in addition to a new staging of the ever-popular Rigoletto, we will be given a chance to see and hear one of the rarely-performed, modern and exciting works in the genre: the out-of-this-world Les mamelles de Tirésias by Poulenc.
Les mamelles de Tirésias – make love, not war
Forget about what you know about opera – the traditional plots, the setting and even the location. Les mamelles de Tirésias will be performed in Reading 3, a venue usually reserved for rock and jazz bands. The Summer Opera Workshop participants will take over the space and turn it into a cabaret hall. You'll take a seat at a small table, enjoy a tall drink and a cabaret show, which will transform you to the world of the experience this surreal and yet so sensible work, which starts out as a farce and goes on to express a message of peace and renewal. Since the story is so fluid, director Edwin Cahill has reimagined the setting and transferred it to Tel Aviv, and the opera will be performed in a mixture of English, French and Hebrew. The opera will be followed by an even more non-traditional event – a dance party.
Back to basics Rigoletto
Rigoletto is a timeless classic with a timeless story of revenge, tragic innocence, and nasty politicians. It has been given countless interpretations over the years – many operagoers in Israel are familiar with David Pountney's staging of Rigoletto, which will be performed once again next year at the Israeli Opera. This Rigoletto will be completely different. Director Inga Levant will strip away the usual elaborate scenery and costumes that are used in major opera houses, and will instead bring the focus back to the basic story, the characters, and most of all, the singing. Baritone and coach Marco Nistico will join the ranks of the singers in the title role (usually reserved for baritones well into their careers). Thomas Cadenbach, musical director, will provide the piano accompaniment.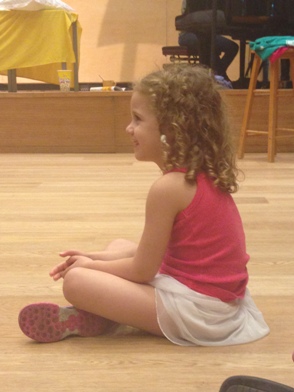 Hooked! A young opera fan listens attentively to the singers at the children's concert/Photo: Lior Levy
"All we can do with opera" – interactive children's concerts
In a new development this year, the Summer Opera Program has been giving performances aimed at children aged 4-7. Two more performances will be held this week, Sunday and Monday. Unlike many other classical performances for children, this one brings the young listeners into the show and onto the stage – which is in fact the whole room, since the action takes place all around it. Shirit Lee Weiss, a highly regarded operatic director in Israel, is the creator of this show and also narrates the performances. The singers perform a spot-on selection of arias, songs and duets, with some Hebrew words thrown in, which create a plot of their own and show the audience just how expressive, fun and intuitive opera can be.
Tickets to all events can be ordered via Eventim – www.eventim.co.il/opera, *9066.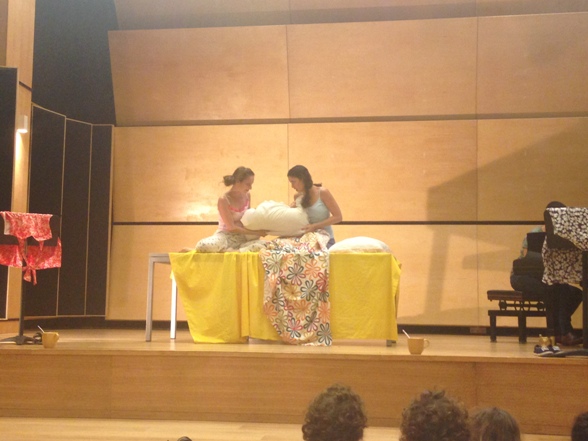 Rinat Goldman and Anat Czarny reimagine the duet from Cosi fan tutte at Shirit Lee Weiss' operatic children's concert/Photo: Lior Levy