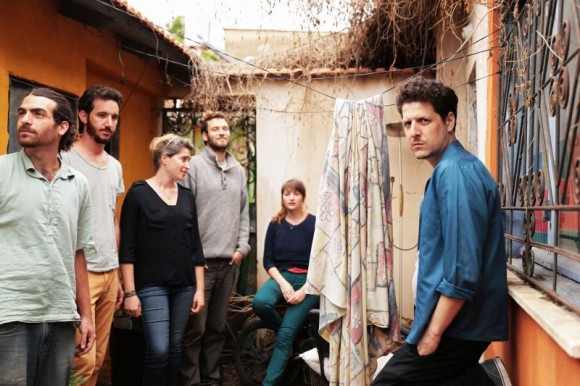 The Angelcy/Photo: Gaya's Music Photos
The Angelcy is going international – they've just signed with Sony, under the European label Jive Epic. Their debut album Exit Inside is scheduled for release in France this spring, followed by a concert tour.
Laurent Rossi, Head of Jive Epic group (Sony Music Entertainment France) said, "Jive Epic / Sony Music France is delighted to start its collaboration with The Angelcy. For us The Angelcy has got the most thrilling music, most organic sound, most sincere words, most powerful voice, most stunning melodies we've heard for ages. And we're decided to let the world know!    "
Midnight East is thrilled for The Angelcy, and happy to say – we knew them when… we've been following the band since just before their InDNegev debut in 2011!
The Angelcy on Midnight East:
First mentions – InDNegev 2011:
The Angelcy may have been missing Maya Lee Roman on the night, but not much else. Their lyrical ideas were well expressed and the musical concepts came through clear and uncluttered. The band's appearance complimented their down to earth and easygoing style from the long hair and full beards, to the sandals and bare feet. Read more here.
Midnight East was glad to meet The Angelcy once more – a new band that relies on strong and sensitive lyrics, with a complex texture to their eclectic sound that knows how to get a good rhythm going. Read full InDNegev 2011 review here.
First feature:
They come to us in dreams, in story and song, sometimes we wrestle with them, emerging altered from the encounter, we who dream of angels and walk the ground, wandering in that breadth of time between heaven and hell. It's a powerful symbol, use it at your own risk. Read the full article here.
Towards the album & some origins stories:
The Angelcy hit the ground dancing about two years ago, performing almost non-stop since their first performance at InDNegev 2011. Original songs written by Rotem Bar Or resonate with poetry, raw emotion, social conscience and a seductive groove, and there's a lot of love for the band whose performances have become a cult phenomena in Israel. That energy has been gathered inward for the past few months as the band is preparing to record their first album. Read the full interview with former Angelcy drummer Dov Rosen here.
Exit Inside album launch review:
The Angelcy. It's a name that reaches for something far away, something with wings. It's not afraid to show the rough and sentimental ragged edges of emotion, but knows how to smile. It's a secret meant to be shared. Read the full review here.
Just before they head out to conquer the world, you can hear The Angelcy at one of these concerts: February 4 at Zappa Jerusalem, February 6 at Zappa Herzliya, February 7 at Rappaport Hall Haifa, February 19 at The Barby Tel Aviv, March 11 at Zappa Tel Aviv, March 13 in Yifat Hall Emek Izrael.