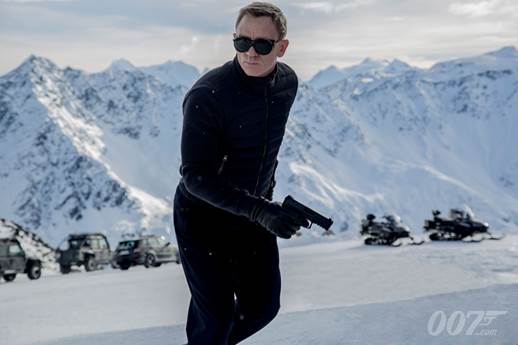 Daniel Craig as James Bond in Spectre/Photo courtesy of PR
Daniel Craig – I've missed you! But more than that, I am really looking forward to yet another seemingly impossible actions sequence loaded with dangerous stunts! Also very curious to see what Christoph Waltz will be up to… and who will sing the theme song?
Sam Mendes (American Beauty, Skyfall) is directing, and those who are not Craig fans, can enjoy Ralph Fiennes as M, while quietly mourning the departure of Judy Dench. They say the plot is something like this: A cryptic message from an unlikely source sets James Bond navigating the layers of a sinister organisation known as SPECTRE. As M continues fighting political pressures that threaten the future of MI6, Bond draws closer to uncovering a hidden truth that threatens to destroy everything he has fought to protect.
But really, for me, it's all about those amazing action shots, so here's a look at the Spectre set up for action in the snow-capped mountains:
Spectre will be distributed by Forum Films in Israel, and is scheduled for release on October 22, 2015.