Last updated July 20th 2015
Shamel Pitts, a dancer in the Batsheva Dance Company, will be performing Black Box at the Tel Aviv Artists' House (Beit HaOmanim) Gallery on Sunday, July 26, 2015.
Black Box: Little Black Book of Red is a live performance, written, conceived and performed by Shamel Pitts. The title of this work refers to the "black box" used to record everything that happens on a flight, so that in the event of a crash, this documentation will survive to tell the tale. In theatre terms, black box refers to a performance space, usually an empty room with the walls painted black, that can easily be adapted to different kinds of performances. Since almost any space can be converted into a black box theatre, there is an historic affinity between black box and experimental or alternative theatre.
Pitts developed the texts and arrangement over several years. The first performances took place in his apartment before 30 of his closest friends, on his 30th birthday, with a duration of 30 minutes. Now he is taking this show on the road to the Artists' House. Each performance will be followed by a gallery gather and discussion of the work.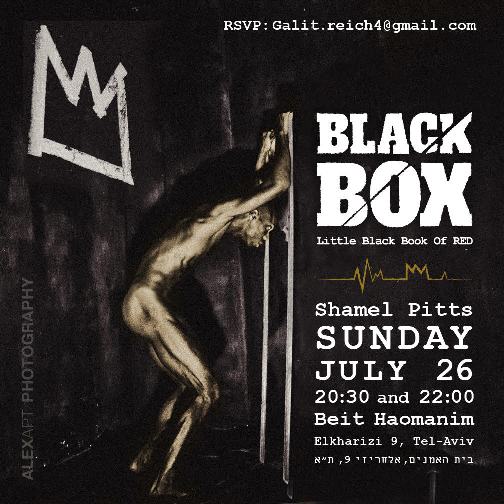 Black Box: Little Black Book of Red will hold two performances on Sunday, July 26th at 20:30 and 22:00. Beit HaOmanim (Artists' House), 9 Elharizi Street, Tel Aviv. Tickets are 70 NIS, to order, write to Galit.reich4@gmail.com.
Black Box: Little Black Book of Red
Written, Conceived, and Performed By Shamel Pitts
Produced By Galit Reich
Lighting Design By Tom Love
Graphic Design By Zohar Shemesh
Videography By POISON
Music Edit By: Dudi Bell