Last updated August 16th 2016
From the heart of Mississippi, Blues musician Robert "Bilbo" Walker will be coming to Israel for the first time for two performances: September 6, 2016 at The Barby in Tel Aviv, and September 7th at the Yellow Submarine in Jerusalem.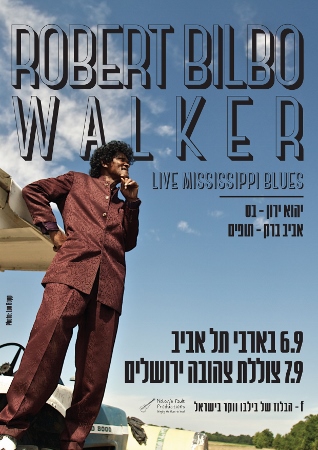 Known for his flamboyant style and energetic moves, Walker will be performing songs from his three albums: The Promised Land (1997), Rompin' & Stompin' (1998), and Rock the Night (2001). Performing with Bilbo Walker in Israel will be two excellent Israeli musicians: Yehu Yaron on bass and Avi Barak on drums.
Born February 19, 1937, in Clarksdale Mississippi, Robert Walker was one of 17 children in his family. Self-taught, he learned to play from listening to songs on a radio his father built, on a guitar made of wire strung between two trees, which he played using a glass bottle. Playing guitar in church, he sang mostly Gospel music in his early years, but a move to Chicago changed his life when he was introduced to the Blues. Influenced by musicians such as Jimmy Reed, Muddy Waters and Chuck Berry, his stage show is inspired by Berry's energetic performance stylings.
Performances:
Tuesday, September 6th at The Barby – tickets are 125 NIS in advance/150 NIS at the door, and may be purchased via this link. Doors open at 20:30. Here's the link to the facebook event.
Wednesday, September 7th at the Yellow Submarine – doors open at 21:00, show starts at 22:00. Tickets are 90 NIS in advance/80 NIS student/soldier/Jerusalem discount, and may be ordered online via this link.  Here's the link to the facebook event.
The best way to get to know Bilbo Walker is through his music! Nobody's Fault Productions, who are responsible for bringing Bilbo to perform here, have put together a great mixtape – enjoy!