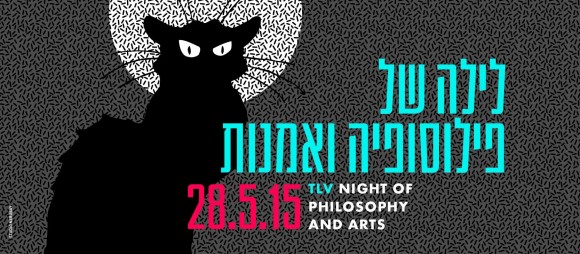 Dreamers, thinkers – the night is calling you! A Night of Philosophy and the Arts will take place in Tel Aviv on May 28, 2015, presented by the French Institute. 15 French philosophers and over 70 Israeli philosophers and intellectuals will participate in events beginning at 18:00 in the evening and continuing until 7:00 the following morning, all in venues within walking distance of the French Institute on Rothschild Boulevard. The full program (text in English) and venue map is available on this link,  and there are many events that take place in English, as well music and film screenings. Admission FREE!
Night of Philosophy & Arts Events in English:
French Institute
Auditorium: 20:00 – 20:20, Lecture – Nostalgia – Barbara Cassin
20:30 – 20:50, "The virtue of Courage" a tool of Democratic Regulation? – Cynthia Fleury
23:30 – 24:00, Lecture – Martin Buber, 50 Years After – Dominique Boure
Documentary films on Martin Buber, Walter Benjamin, Jacques Derrida and Gilles Deleuze will be screened in the Auditorium from 24:30 until morning.
Rooftop:  22:00 – 22:45, Panel: What of Freedom of  Speech Today? Ought Freedom of Speech have Limits? Moderator: Aluf Benn Participants: Monique Canto-Sperber, Elhanan Yakira
23:00 – 23:20, Lecture -BDS, Freedom of Speech Violence – Omri Boehm
23:30 – 24:40, Panel – The Messianic Temptation in Politics, Participants: Joseph Cohen, Anne Dufourmantelle, Annabel Herzog, Vivian Liska
La Closerie, the library at the French Institute: All night sound installation "To My Mother, Nathalie Rodach (2009-2015)"; 20:00 – 20:20, Lecture – "Fear, Anxiety – Creation" Anne Dufourmantelle
Da Da & Da Cafe: 19:00 – 22:00 world music and jazz
Suzanne Dellal Centre, Yaron Yerushalmi Hall
19:00 – 19:45, Conversation – Democracy in the age of the surplus of information, Participants: Monique Canto-Sperber, Aviad Kleinberg
23:00 – 23:45, Panel – Commemorate, what for? What, Why, How to Commemorate/ Participants: Michal Ben Naftali, Barbara Cassin
01:00 – 02:00,  Conversation – Reinventing and Teaching Film Today? Is Another Film Possible? Teaching Film Today, Participants: Alain Fleischer, Ohad Landesman
CCA Center for Contemporary Art
19:00 – 20:15, Panel – Ecology and the Future of Humanity, Participants: Cynthia ,Fleury, Jean-Pierre Dupuy Dan Rabinowitz, Daniel Mishori
21:30 – 21:50, Lecture – Who is the hunchback of theology? About Walter Benjamin's Marxism, Mark Alizart
22:00 – 23:15, Panel – Is the worst yet to come? Catastrophy in the XXth Century and the One to Come, Participants: Nicolas de ,Warren, Alain Fleischer Michael Foessel, JeanPierre Dupuy
23:30 – 01:00,  Lecture – Nicolas Bourriaud – Art in ,the Anthropocene: humans objects and translations, Moderator: Chen Tamir ,Respondents: Nicola Trezzi Noam Segal, Mark Alizart
Discount Bank
20:30 – 21:30, Panel – What Psychoanalysis for Today? Participants: Anne Dufourmantelle, Marco Mauas, Uri Hadar (Auditorium)
21:45 – 22:50,  Panel – Judeities and Philosophy The Figure of the Jew in Philosophy,Participants: Pini Ifergan ,Joseph Cohen, Ronit Peleg Dominique Bourel (Auditorium)
19:00 – 23:00, Screening – Presentation of audiovisual works by the Bezalel Academy of Arts and Design's Faculty, Students and Alumni (Meeting room)
Chelouche Gallery
19:30 – 19:50, Lecture – What is ordinary life? Adele Van Reeth; 20:10 – 21:00,  Recital of Classical Music
Tola'at Sfarim
20:10 – 20:30, Lecture – "The Idea of Consolation" Michaël Foessel
Sommer Gallery
22:00 – 24:00, Screening -Videos and performances by the faculty, the students and the alumni of Bezalel Academy of Arts and Design
Rothschild 12
24:00 – 02:00, Music – DJ Set by Ariel Wizman
02:15 – 02:45,  Lecture, Fear and fatigue, Ariel Wizman
La Cantina Restaurant
24:00 – 24:45, Conversation – Can a Gunshot Change the Course of History? Has the Twentieth Century Begun with the First World War? Participants: Nicolas de Warren, Eran Sebbag
01:00 – 02:15,  Conversation – Franco-Israeli Encounter: Where is Philosophy? Heading Moderator: Raphael Zagury-Orly, Participants: Nicolas de Warren, Joseph ,Cohen, Adele Van Reeth ,Eran Dorfman, Dror Yinon Adam Abulafia.
Links: French Institute facebook, TelAviv Night of Philosophy and Arts event page
Night of Philosophy and Arts – program and event map in English