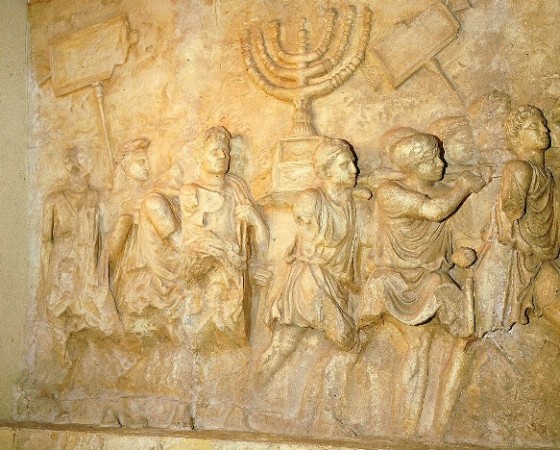 Photo courtesy of PR
The Israeli Opera is celebrating Passover this year with an extra-special production of Nabucco, conducted by Daniel Oren and directed by Stefano Mazzonis di Pralafera, who most recently directed La bohème. Take a trip back in time and revisit Jewish history, with some added high notes and coloraturas here and there.
The Nabucco of the title is of course Nebuchadnezzar II, who destroyed the First Temple. The opera is a fitting tale for the month of Passover, and for the Israel Opera's thirtieth anniversary. The opera features a political plot and a romantic plot, intertwined against the historical backdrop, and featuring some of Verdi's strongest and most complex characters – Nabucco himself, and his two daughters, Abigaille and Fenena.
Nabucco was Verdi's third opera and first great success, and he later said that it was "born under a lucky star". Composed shortly after the death of his wife and two children, and when Verdi had all but sworn off opera entirely, it might be considered a miracle that the opera was even written at all. An oft-told and yet mostly fictional anecdote has Verdi, despairing of ever composing again after the tragedies that befell him, finally accepting the task of composing Nabucco, after the impresario of La Scala, Bartolomeo Merelli, literally pushed it into his hands. Verdi often over-dramatized the events of his own life, and that's how this apocryphal story came to be. We'll let the composer himself tell it as he does best:
I got home and with an almost violent gesture threw the manuscript on the table, standing upright in front of it. The book had opened in falling on the table; without knowing how, I gazed at the page that lay before me, and read this line:
Va, pensiero, sull'ali dorate. (Fly, thought, on golden wings.)
I ran through the verses that followed and was much moved, all the more because they were almost a paraphrase from the Bible, the reading of which had always delighted me.
I read one passage, then another. Then, resolute in my determination to write no more, I forced myself to close the libretto, on once, but two or three times, so that by the morning I knew Solera's libretto almost by heart. One day one verse, another day another, here a note and there a phrase, little by little the opera was composed.
Indeed, the now-famous Va, pensiero became one of the most famous choruses in operatic history. In an unprecedented event, the audience left the premiere humming the chorus parts, and not an aria.
The arias of this opera are notoriously difficult to sing. The role of Abigaille, which was sung by Verdi's second wife Giuseppina Strepponi, is one of the most demanding roles in Italian opera – more than one soprano has damaged her voice irreparably after performing it, and after a few performances even Strepponi found herself struggling.  This production will feature three soprani singing the role – Anna Pirozzi, Elisabete Matos and Tatiana Melnychenko, all in their Israel Opera debut. Three baritones will share the role of Nabucco – Alberto Gazale, Sebastian Catana and the now-regular guest at the Israel Opera, Ionut Pascu.
Nabucco premieres at the Israel Opera April 7, and will run for fourteen performances. Enrich the experience with backstage tours (in Hebrew), free for ticket-holders an hour before the show, and with Opera Talkback, a chance to meet the singers after the show (on select dates). Tickets can be purchased by phone at 03-692-7777 or online at www.israel-opera.co.il.