#1
September is a great time to dance! Tel Aviv will enjoy a lively surprise as the West Coast Swing dance community comes together to strut their stuff! The Tel Aviv International Flash Mob West Coast Swing will take place on Saturday, September 3, 2016 – with West Coast Swing flash mobs taking place all over the world on that day! Given our hot climate, the event will most likely take place in the late afternoon, about an hour before sunset. The location is yet to be named, so check the facebook event page for updates.
Here's what the event was like in 2015:
#2
Music in September! The Jerusalem International Chamber Music Festival opens on September 1st;  Adumey Hasefatot September 3rd; Amit Erez performing in Tel Aviv for one night only September 7th; Shye Ben Tzur on the 8th; Shai Tsabari on the 14th and Vaadat Charigim on the 28th & 30th… all the details on the Midnight Music page (updating all the time, so don't forget to check back…)
#3
The Jerusalem Season of Culture presents Mekudeshet, a celebration of Jerusalem-inspired creativity that will take place from September 4 – 23, 2016.  The festival offers Eight Ways to Dissolve Boundaries – theatrical tours of the hidden Jerusalem, a week of music from September 18 – 23 that will feature Israeli and international musicians, as well as some unique collaborations: Ravid Kahalani and Sona Jobarteh from Gambia in a performance under the artistic direction of Maya Dunietz; Ethio-jazz musician Mulatu Astatke; Baaba Maal from Senegal; and more… The full program and ticket information is available in English on the Mekudeshet website.
#4
From the heart of Mississippi, Blues musician Robert "Bilbo" Walker will be coming to Israel for the first time for two performances: September 6, 2016 at The Barby in Tel Aviv, and September 7th at the Yellow Submarine in Jerusalem. Known for his flamboyant style and energetic moves, Walker will be performing songs from his three albums: The Promised Land (1997), Rompin' & Stompin' (1998), and Rock the Night (2001). Performing with Bilbo Walker in Israel will be two excellent Israeli musicians: Yehu Yaron on bass and Avi Barak on drums. Details via this link.
#5
The Masrahid Festival for plays in Arabic will take place from September 6 – 8, 2016 at the Acco Theatre Center. Now in its 15th edition, the festival provides a prominent platform for plays in Arabic, and nurtures the creation of original works, offering theatre-goers a view onto Palestinian-Arabic culture and concerns. The plays are performed in Arabic with subtitles in Hebrew, opening the event to audiences who do not speak Arabic, and creating a bridge of communication between the two cultures. Details via this link.
#6
One Week and A Day will open in Israeli theatres on September 8th. A film that touches on serious themes with humor and warmth – Eyal and Vicky Spivak have suffered a great loss, now, the Shiva (the traditional Jewish mourning period) for their son has ended, and it is time to return to their normal routine. But how can anything ever be normal again? The film follows Eyal and Vicky on this most unusual day, featuring outstanding performances from Shai Avivi and Evgenia Dodina in the lead roles, as well as much hilarity from Tomer Kapon as their young slacker neighbor.  Asaph Polonsky's debut feature won the Haggiag Award for Best Israeli Feature Film at the Jerusalem Film Festival 2016, as well as Best First Film and Best Script, and the Fipresci Award for Best Israeli Debut.
#7
The Diver Festival for dance will take place over the course of three weekends in September, from September 7 – 24, 2016. Trad(e)tion – composed of the two words "tradition" and "trade" is the underlying concept of this year's festival, viewing tradition as something that is moving and changing. One of the festival's own traditions is "Never Forget" with projects that dive into the history of dance. In this context, the Israeli premiere of I Love My Dancers, a performance in English, by Uri Turkenich and Geraldo Si, will explore the works of Pina Bausch's Tanztheater Wupperthal in the late 1970s. In addition to dance, photographer Gadi Dagon's exhibit Rite of Spring will open at Warehouse 2, Jaffa Port, on September 9th. The Diver Festival will feature works from the Inbal Dance Company, Yasmeen Godder, Iris Erez, and Dana Ruttenberg's Project 48, as well as additional performances and discussions.The full program is available on the Diver Festival website.
#8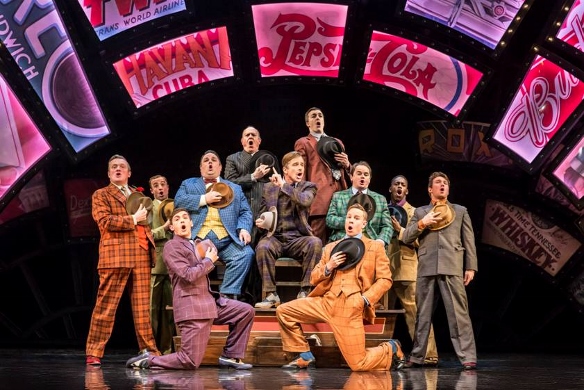 Guys and Dolls, in the popular Chichester Festival revival production, directed by Gordon Greenberg, will be coming directly from the West End to Tel Aviv, for a 15 show run from September 15 – 24, 2016. The musical will feature a cast of 40, a live 14-person band, and the large-scale set and costumes that make a stage musical magical. The performances in Israel will be in English with Hebrew surtitles. Meet Nathan Detroit, a gambler desperately in need for money to get into yet another game, and his long-time girlfriend night-club singer Miss Adelaide. Sy Masterson is even more of a gambler, and can't resist a bet – which involves romancing the buttoned-up Sarah Brown, a missionary. Hilarity, and lots of song and dance, ensues. Details via this link.
#9
Let's end the summer on a high dramatic note with the Israeli Opera! A performance of Puccini's Madame Butterfly will take place on Thursday, September 15th in Park HaYarkon at 20:30 – admission FREE! Conducted by Francesco Cilluffo, the production is directed by Gadi Schechter, and with the Israeli Symphony Orchestra Rishon LeZion. Scheduled soloists are: Ira Bertman (Cio Cio San), Davide Giusti (Pinkerton), Vladimir Braun (Sharpless), Naama Goldman (Suzuki), Anat Czarny (Kate), Yosef Aridan (Goro).
#10
September is "Back to School" time, an excellent time to become better acquainted with The National Library of Israel! As part of Open House Jerusalem, the National Library will be offering tours of the building on Thursday, September 22nd at 15:00, and Friday, September 23rd at 10:00. Designed in the spirit of Le Corubsier, the building has clean and simple lines. The tour will include the library's reading rooms, interior courtyards and external passageways. Visitors will also see images of the new National Library of Israel complex currently under construction in the National District. Participation is free. Please contact the Visitor Center for details: 074-7336125. Additional information is available on The National Library of Israel website.