Levontin 7 is celebrating its 9th anniversary with 6 marathon nights of music from Sunday, July 26 – Saturday, August 1, 2015.
Levontin 7 was founded by musicians for musicians – and that is what keeps this club a hot spot on the Tel Aviv scene with roughly 60 shows a month and identity intact. The bar and basement venue has something for everyone – from the avant garde connoisseur to the casual visitor. Club founders are: jazz saxophonist Assif Tsahar, jazz pianist Daniel Sarid and classical conductor Ilan Volkov. Both Tsahar and Sarid will be performing in the music marathon.
It's a great program, with the first 3 nights FREE ADMISSION!!!
Sunday, July 26th 20:30 – admission free
Hadara Levin, Yarona Caspi, Noa VeHaSegel, Yehu Yaron, Old Man River, The Great Machine, Bucharest, Noam Rotem, Hamasach HaLavan
Monday, July 27th 20:30 – admission free
Tal Oren, Alon Eder, Yonatan Levital, Ram Orion, Beatmila, Shelly and Rotem, Daniel Sarid Trio, Zeev Tene, Haya Miller, Hila Ruah, Nitzan Horesh and the Cut Out Club
Tuesday, July 28th 20:30 – admission free
Nir Shlomo, Aya & The Dog (Aya Zehavi Feiglin & Hod Sarid), Roy Dahan, Uzi Ramirez, Igor Krutogolov & Assif Tsahar & Ariel Armoni, The Girls, Shalosh, Inga-Dingo
Wednesday, July 29th 21:30 – tickets 30/40 NIS
Echo & Tito vs. MALOX – a winning combination!
Thursday, July 30th 21:30 – tickets 40 NIS
Midnight Peacocks
Friday, July 31st 21:30 – tickets just 10 NIS
Tribute to Ornette Coleman (1930 – 2015) – the American jazz saxophonist, violinist, trumpeter and composer was at the start of the free jazz movement in the 60s, with his 1960 album Free Jazz: A Collective Improvisation. An incredible constellation of Israeli musicians will be performing in his honor: Ilan Salem, Albert Beger, Assif Tsahar, Erez Barnoy, Assaf Shatil, Daniel Sarid, Yuval Cohen, Yonatan Kretzmer, Adam Cohen, Milton Michaeli, Shay Hazan, Hillel Salem, Yonatan Riklis, David Samucha, Maya Dunitz, Uzi Feinerman, Anat Fort, Eran Elisha, Ram Gabay, Shmil Frankel.
For additional information check the Levontin 7 website, facebook page or call: 03-5605084.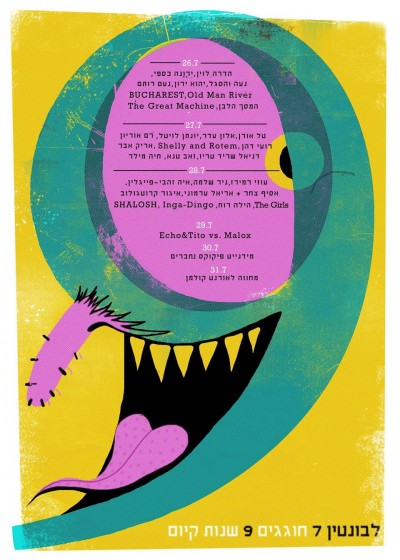 Design: Igor Krutogolov