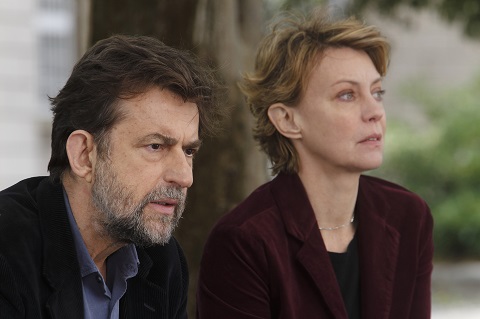 Nanni Moretti and Margherita Buy in Mia Madre/Photo courtesy of PR
Nanni Moretti's Mia Madre (My Mother) will open the 32nd Jerusalem Film Festival in a festive screening at the Sultan's Pool on July 9, 2015, with actor John Turturro (who plays an exceedingly difficult actor in the film) in attendance. The film comes to Jerusalem fresh from Cannes 2015, where it participated in the competition for the Palme d'Or. The festival will take place from July 9 – 19, 2015.
Italian director, producer, screenwriter and actor, Giovanni "Nanni" Moretti is best known worldwide for his films Caro diario (Dear Diary 1993) and La stanza del figlio (The Son's Room 2001), the latter film won the Palme d'Or at Cannes 2001. Moretti's films often deal with autobiographical material transformed into fictional mode with some rearranging of detail, as in My Mother. He often participates as an actor in his own films, and here too, he plays the brother Giovanni, to Margherita Buy's film director. The sister and brother are trying to cope with their mother's fatal heart illness. Ada (Giulia Lazzarini) is a retired teacher, and Moretti's own mother was also a teacher.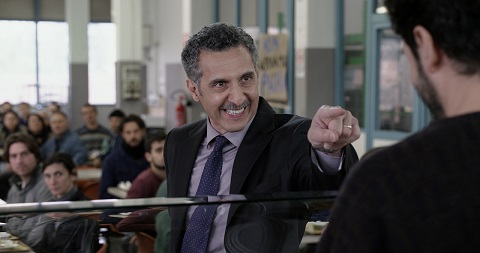 John Turturro in Mia Madre
The stellar actor John Turturro (Do the Right Thing -1989, Miller's Crossing – 1990, Barton Fink – 1991, Quiz Show  -1994, The Big Lebowski – 1998, O Brother, Where Art Thou? – 2000) comes into this story as the disruptive outsider, brash American actor Barry Huggins.
The festival's closing event promises to be dramatic – a screening of Francis Ford Coppola's classic The Godfather at the Sultan's Pool on Saturday, July 18, 2015, with live music! Composer Nino Rota's lush and moving soundtrack will be performed by the Jerusalem Symphony Orchestra conducted by Justin Freer, who has composed music for the 2011 and 2012 Major League Soccer Championship Cups in Los Angeles, as well as conducting orchestras worldwide, including the Philadelphia Orchestra, Philharmonia Orchestra, Sydney Symphony and many more.
Jerusalem Film Festival 2015:  July 9 – 19, 2015
Festival director: Noa Regev; Artistic director: Elad Samorzik; Israeli film program director: Erez Bernholtz
Website: http://www.jff.org.il