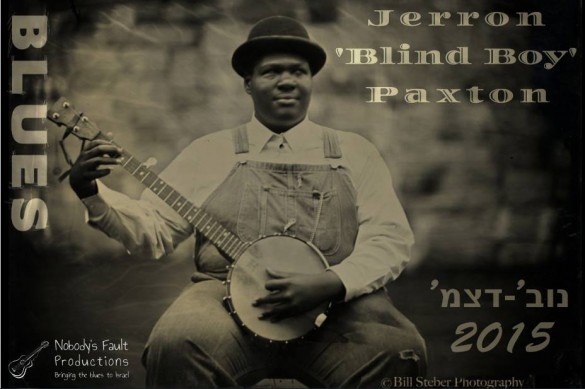 Jerron 'Blind Boy' Paxton returns to Israel this week (!!!) with an extended tour including performances in Tel Aviv, Jerusalem, Haifa, Hemdat Yamim, Arad, Beer Sheva, Zichron Yaakov, and Mitzpe Ramon!
The young multi-instrumentalist will be playing guitar, banjo, harmonica, violin, piano and maybe a few more… There's an old soul singing in this Jewish African-American bluesman, influenced by the sounds of the 20s and 30s. If you missed his first visit to Israel, here's your chance!
Jerron Paxton concert tour:
Saturday November 21st at 20:00 – Levontin 7 – Eli and the Chocolate Factory with Jerron Paxton. Tickets. Event page
Monday November 23rd at 21:00 – Fringe Theatre Beer Sheva with Nadav Azulay opening for Jerron Paxton! Tickets. Event page.
Tuesday November 24th at 21:00 – Wunderbar Haifa. Tickets online, or call 058-4780606. Event page.
Thursday November 26th at 22:00 – Hemdat Yamim. Tickets. Event page.
Saturday November 28th – Arad Conservatory – tickets at the door.
Tuesday December 1st – Mitzpe Ramon Jazz Club – link for tickets will be updated.
Wednesday December 2nd at 20:00 – The Zone, Tel Aviv. Jerron Paxton will open the Tel Aviv Blues Festival Winter Edition! Tickets. There are a limited number of student discount tickets (with student ID) available via this link.
Thursday December 3rd – Alma, Zichron Yaakov. Link to tickets will be updated.
Friday December 4th at 13:00 – Einav Cultural Center. Tickets. Note: this is a seated performance, but places are not marked.
Monday December 7th – The Yellow Submarine, Jerusalem. Tickets.
Jerron Paxton in Israel – event page
Tel Aviv Blues Festival Winter Edition – event page