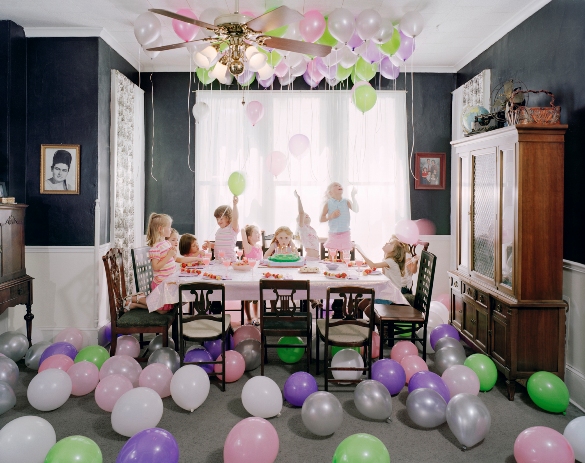 Angela Strassheim, Untitled (Savannah's Birthday Party), 2006, C-print, 40 X 50″
Birthday parties are the best – and you're all invited to this one! The Israel Museum, Jerusalem will be celebrating the 50th anniversary of its inauguration on Monday, May 11, 2015 with special events, extended hours, and free admission for all!
A ribbon-cutting ceremony and the unveiling of Jeff Koons' Sacred Heart will take place at 17:00 on the Carter Promenade with Museum Chairman Isaac Molho and Director James S. Snyder and former Prime Minister and Ninth President of the State of Israel, Shimon Peres. The sculpture is on loan from the Steven and Alexandra Cohen Collection, Greenwich, CT, and will remain on view through 2015.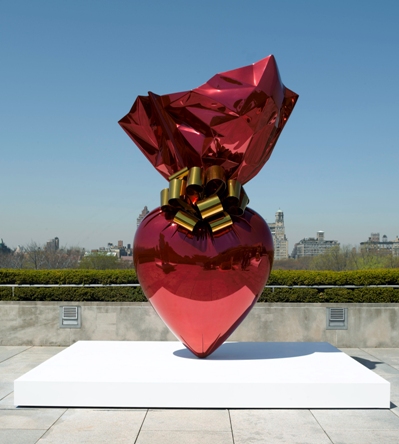 Jeff Koons, Sacred Heart (Red/Gold), 1994-2007, mirror-polished stainless steel with transparent color coating, ©Jeff Koons. Photo: Chris Fanning
A new permanent exhibition of Israeli Art, curated by Amitai Mendelsohn, Curator of David Orgler Department of Israeli Art, will be inaugurated by Jerusalem Mayor Nir Barkat at 19:30. Featured in these galleries will be seventy works by Israeli artists from the Museum's collections, including: Mordechai Ardon, Naftali Bezem, Itzhak Danziger, Michael Gross, Lea Nikel, Assem Abu Shakra, and Yosef Zaritsky.
Tararam will perform "Jerusalem Syndrome" at 18:00 on the Crowne Plaza, and I've been told that a surprise takes place along the Cardo throughout the day…
The fun will begin at 10:00 when the Museum opens, and there will be plenty of daytime activities to enjoy before the formal ceremonies. Guided tours (in Hebrew) will be offered throughout the day, register and meet the tour at the Cardo information desk. Free Birthday-themed guided tours for children and families (in Hebrew) throughout the Museum, register and meet the tour at the Youth Wing information desk, tours begin at 16:30, 17:00, and 17:30.
Don't miss the Big Birthday Party on the Carter Promenade with a balloon-bending clown; a birthday bag for every child; Callistro the Magician; the dancing-clown figures, and workshops for children: writing in ancient Hebrew on pottery shards, creating picture postcards to celebrate the Museum's birthday, decorating ancient amulets. The day's delights include an ice-cream truck, cupcakes, and the huge birthday cake!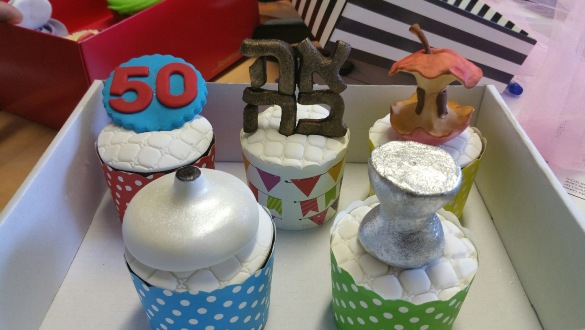 Cupcakes/Photo courtesy of The Israel Museum Jerusalem
The Youth Wing will be a happening place with two new birthday exhibitions: Happy Birthday, curated by Orna Granot, Associate Curator of the Library for Illustrated Children's Books, takes a look at birthday parties with over forty works of art by Israeli and internationally-known artists. Exhibition-in–a-Box: Fifty Years of Youth Wing Exhibitions, curated by Guest Curator Ido Bruno, reflects on the 50 year history of the Youth Wing, with fifty individual boxes, each representing an exhibit from the past. The exhibitions will remain on view through May 16, 2016.
This is a wonderful time to visit the special exhibitions in honor of the Museum's 50th: 1965 Today and A Brief History of Humankind. The Israel Museum Jerusalem will be open on Monday, May 11th from 10:00 – 21:00, admission free.