Last updated July 20th 2015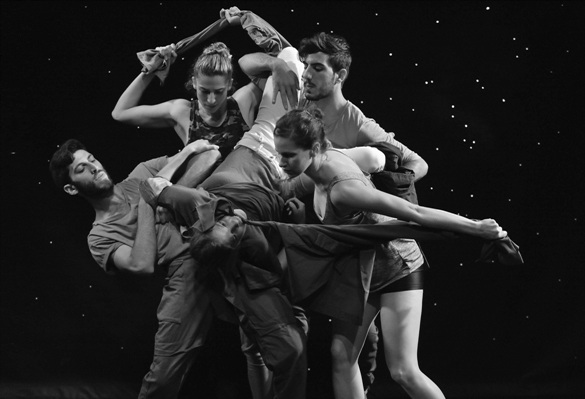 Si, Fuggire by Idan Cohen/Photo: Gadi Dagon
Intimadance is an annual festival of dance, presented by Tmuna Theatre, consisting of new works created in response to a different theme each year. This year's theme is: resistance.  The works are not intended to be "crowd pleasers," but rather as an opportunity for choreographers and performers to engage deeply with their art and focus on the process. I may not like everything I see, but I am rarely bored, often surprised, and I always have fun.
Intimadance will take place from Thursday, July 30 – Sunday, August 2, 2015, under the artistic direction of Tal Yahas and Yair Vardi, and the artistic consultation of Nava Zuckerman. The program features 13 new works that examine the possibilities of resistance to the current situation in Israel through the art of dance. Intimadance traditionally takes place throughout Tmuna theatre, utilizing the different spaces of this former garage. The audience will be led from one performance to another by the actor Ariel Bronz.
Performances
Program A: Friday, July 31st at 14:00; Saturday, August 1st at 12:00; Saturday, August 1st at 20:00
Program B: Friday, July 31st at 20:00; Saturday, August 1st at 14:00; Sunday, August 2nd at 21:30
Guest performance, Roy Assaf's Boys: Thursday, July 30th at 20:00; Friday, July 31st at 12:00; Sunday, August 2nd at 20:00
Tickets are 65 NIS for each performance; 100 NIS for two. To order, call: 03-5611211.
Additional information is available on the Intimadance website (in Hebrew) and the Tmuna website.