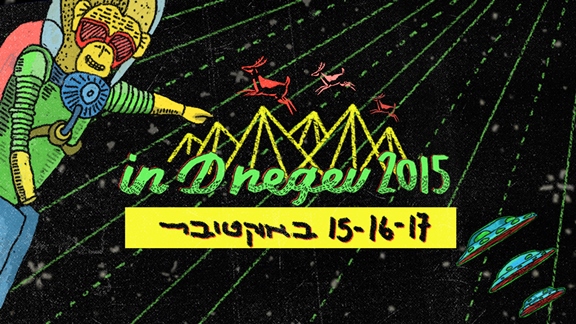 InDnegev is entering its 9th year with over 90 performances on four stages in this year's festival! More than a music festival, InDnegev is a community that blooms in the desert for three days each fall, the unofficial last weekend of summer: October 15 – 17, 2015.
There is a great flow to the festival, and I think it's fun to drift from one stage to another and discover… but still, some recommendations, in order of appearance:
THURSDAY
Monkey Stage
1840s – I've only heard them once in Tel Aviv, but I liked what I heard…
Tiny Fingers – Textured layers of instrumentals that send the mind to the outer reaches of consciousness and make the body MOVE!!! Midnight East interview with Oren Ben David.
FRIDAY
Monkey Stage
Shai Tsabari – Something wonderful happens when people come together to make music. They listen to one another. Those are the transcendent moments in a concert, when everybody in the room becomes an instrument of the music, singing, playing, dancing, the music reverberating within and all around. This is what happens when Shai Tsabari sings. Now imagine all this in the desert…
Vaadat Charigim – Existential despair and individual angst swell into lush electronic sound in Ein Li Makom, a single from their 2nd album Sinking As A Stone. This band sings in Hebrew, but their fans abroad have no trouble understanding the message… my rough translation of this song on this link.
Elephant Stage
Sawyer – Country rock with a strong & edgy stage presence! Worth getting up early in the morning to hear this band (yeah, they're scheduled for 9:30)!
Botimzog – these ten musicians defy definition (possibly the only Israeli band with its own brewery), suffice to say there's a lot going on onstage and it's crazy fun!
Beetle Stage
Gitla – ethereal voice and haunting lyrics, this singer/songwriter is a wonderful storyteller, her songs have a timeless quality and beauty.
InDtronix Stage
Maya Belsitzman and Matan Ephrat are an incredible duo, far more than cello and drums, their performance is unusual and striking.
SATURDAY
Monkey Stage
Lucille Crew – the first time I heard Lucille was at InDNegev – they're the kind of band that takes over your body with their funk, hip hop, searing soul sound and rhymes that take the grit, the dirt, the pain, the sensuality and rhythms of the city and tattoo them on your brain. Read more about Lucille here.
Uzi Navon – tribute to Arik Einstein. Uzi Navon is one of a kind retro-bliss, his covers capture the feeling and experience of hearing the songs for the first time but with a semi-cynical sense of " ou sont les neiges d'antan?" At InDNegev this year, he'll be at the piano with a tribute to Arik Einstein, who will always be with us, and always be deeply missed.
Elephant Stage
Ramzailech – Ramzailech sound like no other band: merging Klezmer, industrial, hip hop, jazz, groove and Middle Eastern into a rush of sound and feeling, the past slam-dancing into the future – in Yiddish! Read Midnight East's interview with the band in their early days.
InDNegev has a great website with the full program, don't be too daunted by the fact that it is in Hebrew, there are links to bandcamp, YouTube, and websites so you can hear the music, which is the most important thing!
Some practical information:
Tickets sell out, so get yours NOW! You can't get a single day ticket, due to space limitations they can only sell tickets for the entire festival (the exception – tickets for Thursday evening only – not many left). Tickets are 300 NIS, get your tickets online via this link.
There are no age limits, children are welcome to the festival. Admission for children ages 4 – 11 is 50 NIS.
There are outdoor showers – bring a bathing suit!
It can get really chilly at night – bring something warm to wear.
If you have questions, send them to: indnegev@gmail.com