Last updated December 14th 2015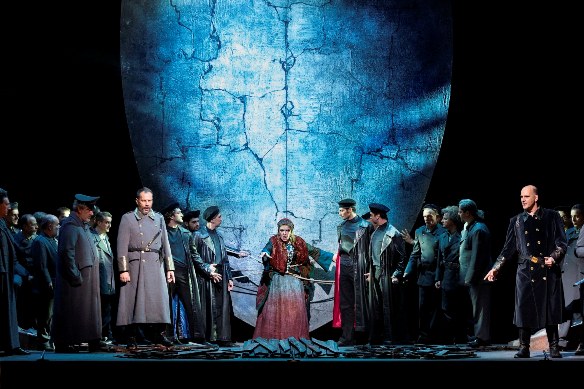 At the recent Metropolitan Opera broadcast of Il Trovatore, mezzo Dolora Zajick retold an anecdote about a tiny restaurant in Italy with a very rare wine that offers a bottle to anyone who can explain the plot of the opera. "The bottle," she concluded, "is still there." We won't try to explain the plot, but we promise it's not really that complicated and it doesn't matter, anyway. With thunderous heroic arias, choruses that bring you to your feet and hair-raisingly dramatic ensembles between four main characters, it's the music that will make you fall in love with Il Trovatore… and we predict that the singers won't disappoint on that score either.
Conductor Daniel Oren is making his return for the first Verdi opera of the season, and as usual when he is involved, the cast is impressive. In the role of Manrico, the Troubador of the title, Gustavo Porta will be joined by Alfred Kim, a Korean tenor in his first visit to the Israel Opera. As Leonora, Manrico's self-sacrificing beloved, we will hear soprani Sveta Vassileva, Dinara Alieva and our own Ira Bertman. The Conte di Luna, one of Verdi's famously difficult baritone roles, will be shared by three baritones: the amazing Ionut Pascu, George Petean, and Korean baritone Tito You in his Israel Opera debut.
Possibly the most fascinating character in this opera is the gypsy Azucena, a loving mother to Manrico, but a woman half-crazed with vengefulness towards those who wronged her in the past. In one of Verdi's most mind-blowing roles for mezzos, we'll hear two singers who are new to us but have already sung at the greatest houses in the world, including La Scala, Covent Garden and the Met: Albanian mezzo Enkelejda Shkosa and American Marianne Cornetti.
Last but certainly not least on this impressive roster is hunky bass-baritone Carlo Striuli as Ferrando, who opens the opera and begins to unfold the aforementioned bizarre plot.
The director is also a regular here in Israel – Michal Znaniecki, a renowned Polish director known for his large and highly detailed productions. We've seen his Ernani, La traviata, and Un ballo in maschera, and most recently he directed Carmina Burana at the Masada Opera Festival.
You can meet the people behind this production at the traditional pre-opening lecture, led by the Israel Opera's artistic director Michael Ajzenstadt, on Saturday, December 26 at 11:00. More cool events are Opera Talkbacks, which are Q&A sessions with the cast of the performance, and Backstage Tours, scheduled before the performance on select nights. Check out the dates, prices and more details below, and visit www.israel-opera.co.il to get your tickets!
Performances will take place from Thursday, December 31, 2015 to Saturday, January 16, 2016, with after show Opera Talkback on January 4, 7, 11, and 14, and backstage tours at 18:30 on January 4, 5, 11, and 12. Ticket prices range from 190 – 438 NIS.