Last updated February 16th 2017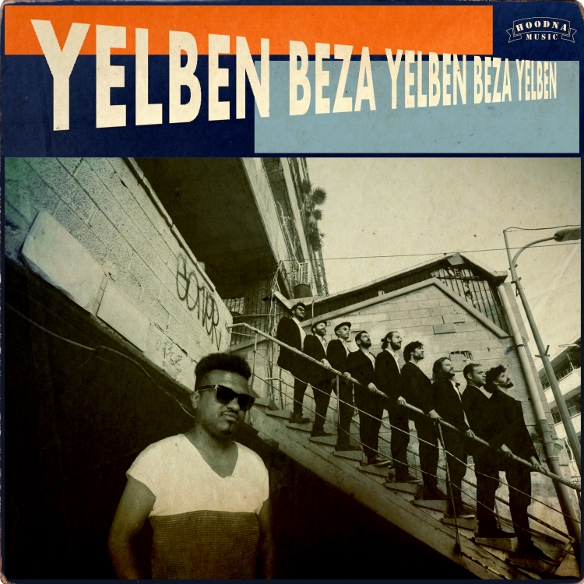 The vintage cover look of Yelben/Beza, Hoodna Orchestra's new single with Tesfaye Negatu, goes deeper than surfaces. A poignant song of love and longing with bright, dramatic brass and a dance groove, Yelben means 'from my heart' in Amharic, and is the first in a series of recordings on the Hoodna Music label, a tribute to Ethiopian jazz of the 60s and 70s, in exciting collaborations between musicians in Israel and Ethiopia. In fidelity to the sound the band likes, the recordings are made with analog equipment, and released on 7″ vinyl. A festive launch will be held at Beit Haamudim on Friday, February 10, 2017.
Yelben, with its inviting rhythms, and the soulful vocals of Tesfaye Negatu, draws one in, you don't need to understand Amharic to feel the sensuality and yearning.  Yelben and B-side instrumental Beza were composed by Ilan Smilan, guitarist and musical director of the Hoodna Orchestra. Smilan is also the co-founder, together with his brother Asaf, of Zvuloon Dub System, whose repertoire also reveals the influence of Ethiopian jazz, as in their album Anbessa Dub, with reggae arrangements of Ethiopian songs.
How did the Smilan brothers connection to Ethiopian music begin? I met with Ilan in Tel Aviv, who told me, "Tomer (Harari, former vocalist  for Zvuloon) and my brother had a srita (Hebrew slang for being damaged, but usually in a quirky, appealing way) they loved Ethiopian music, they'd play DJ sessions of Ethiopian music, I don't know where they caught it. I lived with my brother and I'd just hear it."  Later, Asaf explained that it all began around the end of the last century, when faster internet became available, expanding the musical horizon. Online, Asaf recalled, he "would travel in countries that intrigued me and download music from there and that's how I found Ethiopian music and I've been listening to it ever since."
"From my perspective," Ilan said, "realizing that so much of what I do connects to Ethiopian music, I think the encounters that develop with the artists who make this music and come from there, makes me connect even more. With Zvuloon we worked with Mahmoud Ahmed, a great singer of international renown, and recorded a song with him on the Anbessa Dub album. That kind of experience gives you a different perspective… as compared to other things that I really love, like Afrobeat music from Nigeria. But I don't have the same opportunity to meet the people. You connect through the people."
Ilan came to know Tesfaye Negatu, a singer who immigrated to Israel at the age of 15, when he substituted for Gili Yalo at a Zvuloon gig. Through Tesfaye came the connection to his friend, Ethiopian singer and poet Demisu Belete, who wrote the lyrics for Yelben. Ilan composed the music, sent a draft to Belete in Ethiopia, and Belete wrote lyrics to the song. The entire project is a merging of past and present, live and virtual. Referencing the Ethiopian jazz of the past, recording with analog equipment to work with the resulting distortion, recreating a sound similar to those vintage recordings,and international collaborations made possible through digital technology, yet with an emphasis on the spontaneity and presence of live recordings in the Hoodna studio. And at the heart of it all, the connection of people and music, each encounter leading on to the next. Hoodna Music's next vinyl in this series is scheduled to be released a few months from now, and will be sung by Demisu Belete.
The Hoodna Orchestra members are: Eylon Tushiner – Tenor Saxophone, Uri Selinger- Trombone, Itamar Ben-Yakir – Trumpet, Elad Gelert – Baritone Saxophone, Rom Shani – Alto Saxophone, Tomer Zuk – Keyboards, Amir Sadot – Bass Guitar, Ilan Smilan – Electric Guitar, Matan Asayag – Drums, Rani Birenbaum – Percussion, Shahar Ber – Percussion, Raz Eytan – Percussion. The Hoodna Orchestra began about four years ago at the Hoodna Bar, where several musicians would hang out. "We'd sit in the bar almost every day," Ilan recalled, "and I thought it would be cool to have a house band." Although the band did not have a particular musical agenda, several of the members were drawn to African music, and in 2015 InDNegev approached the band with the idea of performing Ethiopian music with traditional instruments as the Ethiobeat Orchestra, a collaboration with the Adyabo Ensemble, Tesfaye Negatu and dancer/choreographer Aviv Yosef.
With Yelben/Beza out, and the next single in this series already recorded with Demisu Belete, Hoodna is already at work on their next project, taking the music in a darker direction. Sounds intriguiging.
Hoodna Orchestra will be performing with Tesfaye Negatu at Beit Haamudim on Friday, February 10, 2017. There will be two shows, at 21:00 and 22:30. Tickets are 40 NIS, and the space is limited, so reserve your tickets in advance! To order call: 03-5109228. There will be additional performances on February 15th at Ashan Hazman in Beer Sheva, and February 18th at HaMzeaka in Jerusalem.