Last updated July 6th 2016
The Yellow Submarine in Jerusalem is celebrating their 25th anniversary – and there's so much to celebrate! This great Jerusalem venue is a warm home to music, musicians and all music lovers! In addition to a great stage for music, and a friendly bar, the Yellow Submarine is also a recording studio, rehearsal space, a sound school and a place where beginning musicians can grow and learn in an encouraging environment, and they produce their own special events and projects. Yes – lots to celebrate!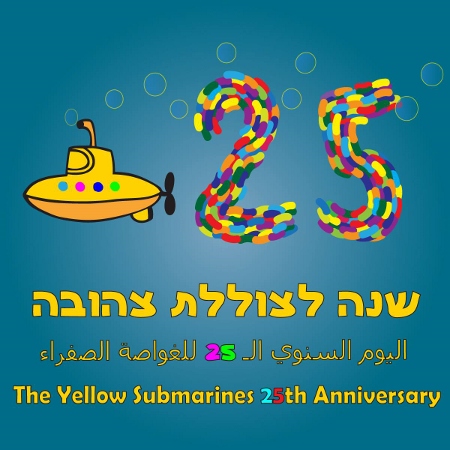 The Yellow Submarine has been sharing the love this month, sending the Submobile through Jerusalem neighborhoods with music. On Wednesday, June 22nd the Submobile will feature HaDvorim in a tribute to the legendary Israeli band Kaveret in Kiryat Menahem (Minhal Kehilati Ganim) at 17:00 – everyone's invited to the party, it's free!
Special concerts coming up in July at the Tower of David, will feature Asaf Avidan (July 13th) and Yoni Rechter (July 14th), all proceeds from these two concerts will be dedicated to a joint project: Yellow Submarine music school students with the Hematology-Sub-oncology department at Hadassa Ein Kerem Hospital. Asaf Avidan will be making a rare and welcome performance in Israel!
Yoni Rechter will be performing with a really good jazz ensemble – Ofri Nehemia, Yurai Oron and Tomer Bar (who also produced the concert), a string trio, and special guest Eli Degibri – with new arrangements of Yoni Rechter's originals, and jazz originals. Opening for Rechter will be Avi Lebovich and the Orchestra with some of Jerusalem's finest young jazz musicians from the Jerusalem Academy of Music (JAM), the School for the Arts, and the Yellow Submarine jazz majors.
All coming to a peak on July 21, 2016 with a 25th anniversary party on the roof of the Hadar Mall in Talpiyot. The fun will begin with a tribute to the Beatles last concert on the roof of the Apple building in 1969. The Magical Mystery Tour will perform on the roof of the Jerusalem Foundation building, and the concert will be broadcast to the roof of the Hadar Mall. But that's not all – Mercedes Band and Jane Bordeau will be performing with special guest Shlomi Shaban and more …
Check the Yellow Submarine website  and facebook page  for updates and additional information.