Eisenhower Dance performed in Israel for the first time, with a diverse program that provided a wonderful introduction to the talents of the company. Established in Detroit in 1991 by Artistic Director/Choreographer Laurie Eisenhower, the company's repertoire includes works by Eisenhower as well as other choreographers. The dancers are excellent! Their physical abilities and technical proficiency are impressive, but what made an even more profound impact throughout the evening was their inherent musicality, and their ability to express the feel of the music as well as their own individual qualities through the choreography.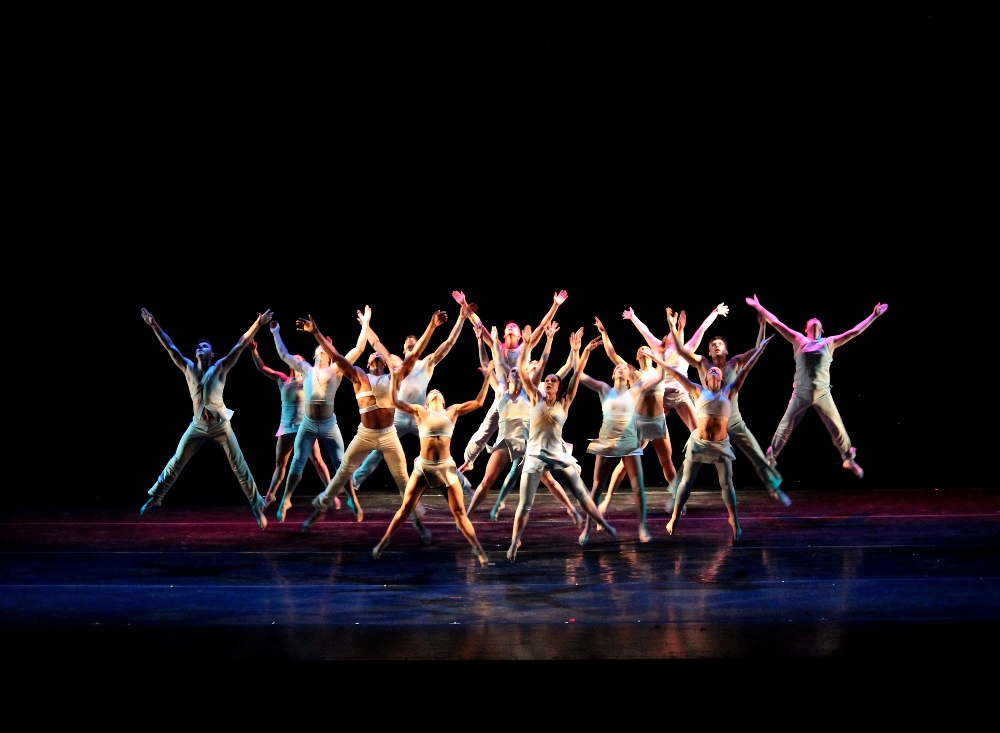 The program presented at the Israeli Opera included several pieces culled from the program The Light Show, in which works (Lightplay, Spectrum, and Laissez Faire) were created in tandem by a choreographer paired with a lighting designer. While these works certainly featured creative lighting design, what stood out for me in these and the other works presented, was the way in which all aspects of the piece – movement, costumes, music, and lighting – enhanced one another, and merging together, created a harmonic entity, with a unique sensibility to each piece.
The evening opened with Spectrum, choreographed by Stephanie Pizzo, with lighting design by Kerro Knox, that began dramatically with a male dancer bathed in red light, surrounded by utter darkness. With his muscular moves, he was red, evoking the drama and power of the color and its associations. Then he disappeared in the darkness, and a green woman dancer moved with more angular, playful, light movements. Soon she was once more plunged in the darkness that filled the stage, and the red dancer reappeared, followed by a couple in blue. Dancers appeared and disappeared, in solos and different combinations, colors emerging and disappearing. Gradually becoming larger and more colorful, with more dancers filling the stage with movement and light, their colored shadows creating a living, moving, painting of light on the back wall.
Threads, choreographed by Laurie Eisenhower, with music by Ludovico Einaudi, was one of the evening's highlights, a work of elegant simplicity and beauty. Duets of sensuality and grace marked this work, replete with romantic lifts, as the women's deep blue dresses swirled about them. The soft nuances of the piano were complemented by curving movement that evoked soothing flow of water, and the soaring exhilaration of flight.
Light Play, choreographed by Laurie Eisenhower, encompassed a great variety of moods and methods, a playground of light effects designed by Kenneth Keith. There were some lovely moments – dancers moving behind a white scrim, their shadows creating an effect of an abstract painting, or calligraphy on a scroll; a bright green stripe of light provided the setting for a dancer in white who luxuriated in a shower of red confetti that fell about her like rose petals – the very image of spring. Yet overall, the succession of effects lacked the coherence of other works on the program, reducing its overall impact.
Laissez Faire, choreographed by Jamey Hampton is a jazzy piece full of intrigue. Dancers in black created an atmosphere of secret assignations and danger, with cool leaps and poses full of attitude. Light came into play in fun form here, as they pulled off a heist, evading the green beams of motion detectors with agility and verve! Then turning the tables on the good guys, trapped them in the red laser beams from their very special gloves – and all to a terrific soundtrack.
Music was a central element in the evening's finale, choreographed by Laurie Eisenhower to Maurice Ravel's Bolero.  The cumulative piece begins with an almost ceremonial feel, as a dancer kneels in the foreground, her hands bathed in golden light. Only her hands move, with eloquent gestures that are almost ceremonial. Behind her, the company dancers stand in profile, frozen in their poses, at intervals moving forward, then stopping. The movement is not illustrative of the music, but rather feels organically connected to it, as if it emerges and grows from it and with it. It's a dramatic piece, intensifying as it moves towards a celebratory and colorful climax, augmented by Kenneth Keith's lighting design.