Ilan Ronen brings the wit, poetry, and piercing humor of Hanoch Levin's Krum to vivid life, in a scintillating contemporary production at the Cameri Theatre, with outstanding performances by the entire cast – theatre at its finest. As a writer, Hanoch Levin's unflinching gaze takes in the minutiae of human existence in all its crude and foolish manifestations, and while his scathingly funny texts cut through the veneer of propriety, cultural norms and euphemisms to expose the absurdity of it all, he also reveals the heart's yearnings in all its naked anguish. The human soul is not only universal, but eternal; its pains and pleasures remain unaltered by time. Originally written and directed by Levin in 1975, Ronen has set the play in 2017. Achieved through staging, set, and costumes, the transition is understated and seamless, it feels as though the play might have been written just last week.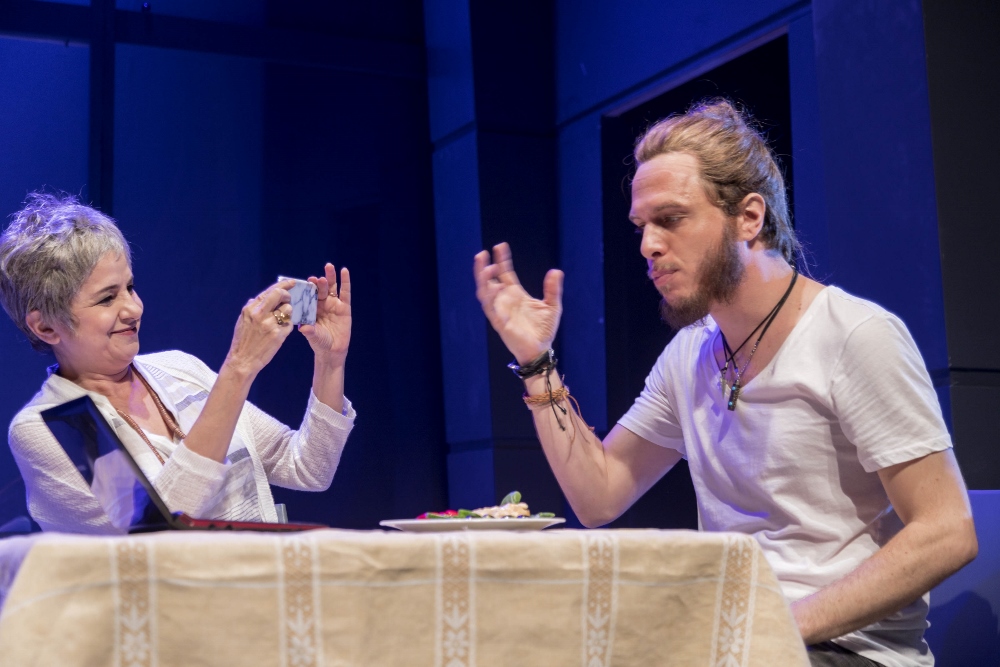 As the play opens, Krum (Udi Rothschild) has just returned home after his travels abroad, announcing to his eager mother (Anat Waxman) that he has accomplished nothing. He may be seeking love, but he has not met anyone; he aspires to become a writer, but has yet to write anything at all. His mother wants grandchildren. Waxman is the quintessential hovering mother, at one point even following Krum plate in hand and gripping a loaded fork aimed for his mouth. In a nice contemporary touch, she pulls out her phone and takes a picture of his plate. Yet Krum, for all his protests, can't quite separate. Just as, although he claims life in his neighborhood – marriage, mortgage, children – would be the end of his dreams, he makes no real move to leave. There is great chemistry and a lot of heat between Krum and his on-again, off-again girlfriend Trude (Dana Meinrath), but it's very uncertain where this relationship is going. In the meantime, Trude has her back-up fellow Tachtich (Eran Mor), waiting in the wings, hoping for a miracle.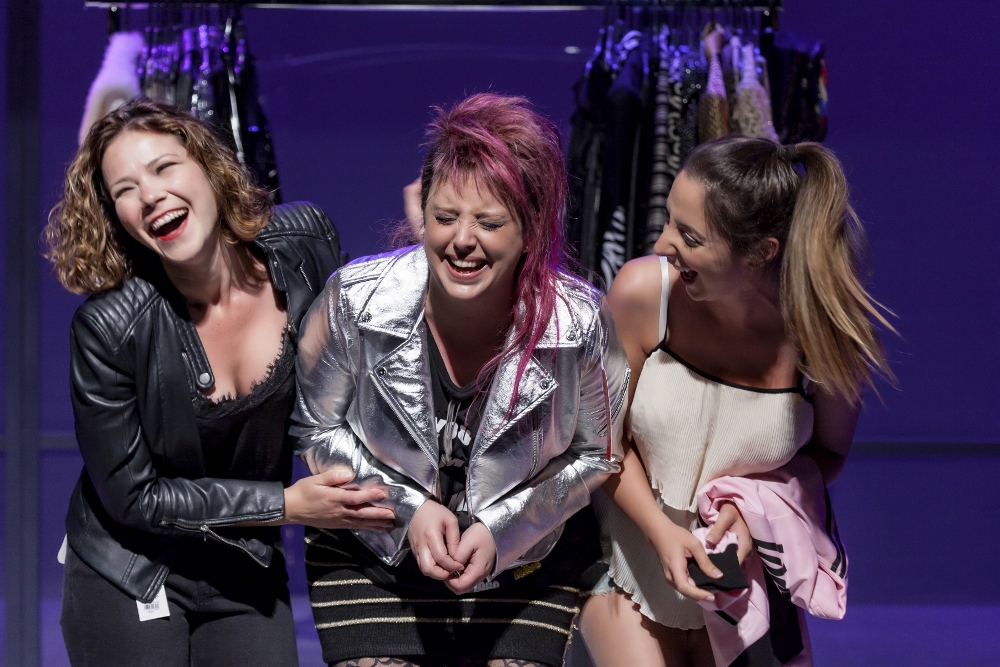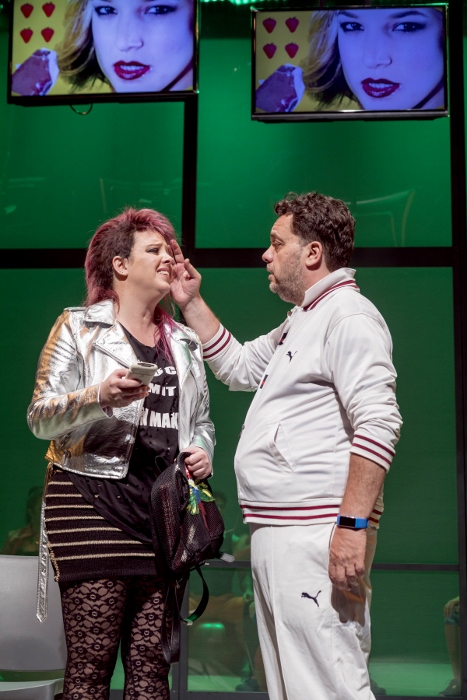 Trude, ever practical, urges her "not at all pretty" yet ever cheerful friend Dupa (Kineret Limoni) to settle for Krum's friend Tugati. Their amorous scene, with Dupa making faces – puzzled, tolerating, yet rather disgusted –  is hilarious. Tugati (Alon Dahan), is in poor health, but can't seem to get anything right. Even the release of tears somehow eludes him. Vacillation and ineptitude are his only constants, yet he is not quite resigned to let life pass him by. Dahan is a wonderfully comic actor who conveys Tugati's many lacks, feeble efforts, and eventual brutal awakening with profound depth and tenderness. Although Trude longs to marry Krum, he fancies the blonde bombshell Tswitzy (Yarden Bracha) who prefers to party with her temporary beau, the very entertaining Bertoldo (Guy Mesika), while planning to marry up. Everyone seems to want precisely that which they cannot have.  Even medical attention is out of reach – in a clever stroke of staging, Dr. Shiboigen (Eli Gornstein) appears only via Skype. Through all the drama and heart-ache, Dulce (Eran Sarel) and Felicia (Sara von Schwartze) stroll through in style that favors lots of black, glitter, animal prints and chunky jewelry, going from wedding to Bar Mitzvah, eating greedily and always wanting more.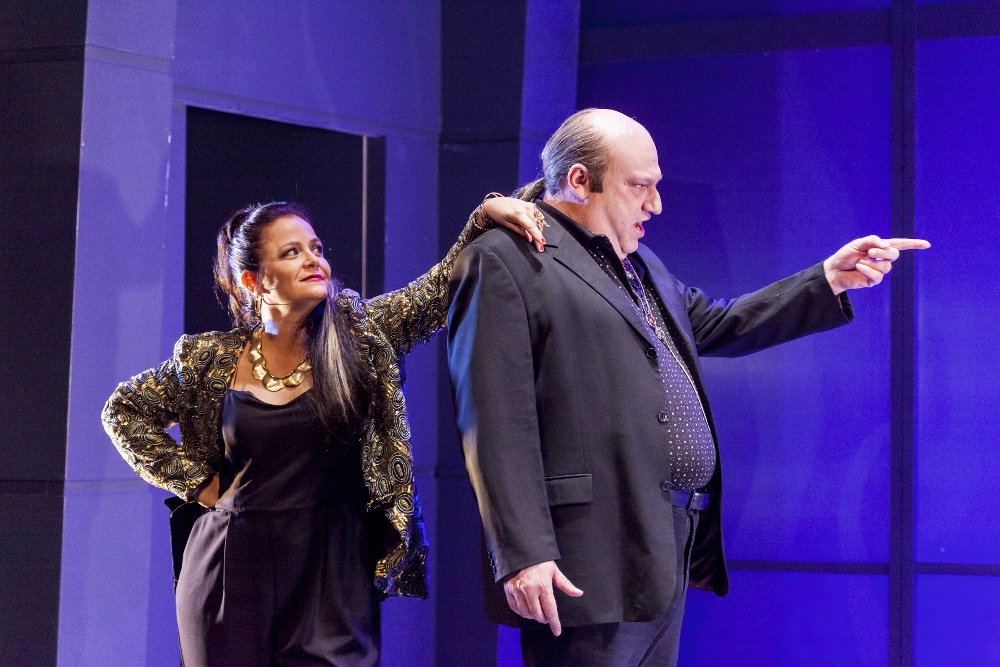 Levin's characters tend towards the extreme and the extravagant, the dialogues boldly direct. Much of the humor lies in the explicit statement of thoughts and feelings usually camouflaged by euphemisms and hypocrisy. Ronen reveals a deep understanding of Levin's imaginative world in his vision for the play. The actors embody the characters without excess, it is in this relative restraint that their individual hues and textures are expressed most effectively, and savored with pleasure. Understanding that the characters and their situations are inherently funny, mannerisms are deployed sparingly, as is physical humor – making the rare slapstick scene even more entertaining.
The movement language of the play, developed by Miri Lazar, is varied and expressive, a significant contribution to the development of the play's themes, working well in tandem with the set design by Niv Manor. The set is deceptively simple and minimalist, yet conveys volumes, reflecting Levin's prose style. The stage is almost empty, with a transparent partition towards the back, like the ubiquitous acrylic glass walls found in many contemporary buildings, and with several flat screens hovering above. The glass wall enables several focal points to be visible on the stage, with action in the background and foreground, reflecting a contemporary sense of perception, creating a flow of action, and offering opportunities for visual humor. The absence of décor emphasizes the timeless, universal quality of the play, while at the same time, the ubiquitous yet simultaneously matter-of-fact presence of the screens accurately represents the way in which technology is an integral part of daily life. Technology and social media offer a new perspective on Levin's contempt for the tendency to value appearances over substance, as the emoticon adorned selfies of an engagement announcement are orders of magnitude more significant than the emotional attachment of the couple in question.
Krum is pure pleasure, its pointed depiction of human weakness always hits the mark, invoking gales of laughter, each burst of laughter accompanied by a pang of recognition.
Krum
A comedy by Hanoch Levin
Directed by Ilan Ronen; Set Design by Niv Manor; Costume Design: Ula Shevzov; Movement and Music Editing: Miri Lazar; Video Art: Amir Tal; Lighting Design: Ziv Voloshin; Director's Assistant: Cnaan Eliel, Aline Roche Gazit; Cast: Krum – Udi Rothschild, The Mother – Anat Waxman, Tugati – Alon Dahan, Truda – Dana Meinrath, Dupa – Kineret Limoni, Tachtich – Eran Mor, Shkita – David Bilenca, Felicia – Sara von Schwartze, Dulche – Eran Sarel, Tswitzy – Yarden Bracha, Bertoldo –  Guy Mesika, Dr. Shiboigen (video) – Eli Gornstein, Male nurse/Photographer/Undertaker – Yishay Ben Moshe, Bridegroom/Barber – Har'el Lissman/Michael Shomron, Nurse/Bride/Guest/TV Producer/Salesgirl – Roni Gornstein.