The Play That Goes Wrong is a brilliant feat of theatrical humor! The Beit Lessin production is hilarious, directed by Udi Ben Moshe with a set design by Alexander Lisiansky, and excellent comic performances from the ensemble cast. Rarely does a play induce the kind of endless laughter that renders a body helpless, shaking, quaking, unable to do anything but succumb – for me, this was one of those rare plays. The self-mocking humor hinges on the theatre and its conventions, in an outrageously funny parody of a community theatre play where everything goes spectacularly wrong.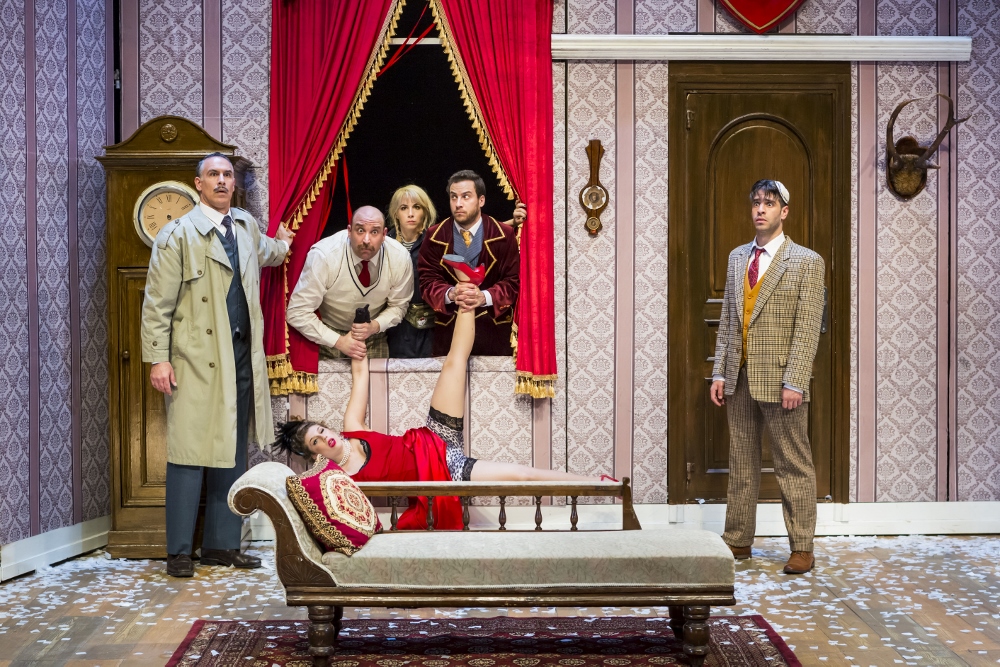 The eager and earnest players of the Ramat Hashikma Community Center, thanks to the increase in budget for the periphery and their gracious hosts Beit Lessin, present a classic British-style mystery play – Murder at Hamilton Manor (for London theatre aficionados, reminiscent of The Mousetrap). The set is elegantly appointed in country manor style, complete with velvet chaise-lounge, family portraits and grandfather clock. Yet the discerning eye will notice a section of molding missing, and no one can miss the marble mantelpiece as it falls with a bang!
As the title suggests, everything that might possibly go wrong does indeed go wrong during their performance, on a grand, disastrous scale! Missed cues, forgotten lines, doors sticking, and actors accidentally clobbered – and that's just the tip of the iceberg. What makes it all deliciously funny is the meticulous accuracy and perfect execution of actors and stage crew. The physical humor is slapstick at its finest, with some heart-stopping moments by Ofri Biterman in one of the most acrobatic portrayal of a dead body ever, and Yuval Yanai bravely hanging on for England. The more they suffer, the funnier it gets, with Shiran Huberman's window scene setting the bar on suffering for one's art. Alexander Lisiyansky's set takes on a life of its own in this production, and plays an enormous, and delightful role. Props fall off the wall, floors collapse, and the entire set moves – all to great comic effect! The work of the Beit Lessin stage crew with the props and set is applause-worthy.
It's a challenge to strike just the right chord with this kind of production that plays on the faults and foibles of cast and set, Udi Ben Moshe does this with a playful, precise touch. It is the very dedication of these would-be actors that makes them so very funny as they gamely try to make up for all the mistakes. It's a very impressive comic display by the entire cast, who never cross that imaginary line that defines "too much." Their exaggerated mannerisms, ludicrous attempts at improvising, and desperate determination that "the show must go on," are endlessly entertaining.
Yaniv Swisa's dour tech guy who just wants to get through the night, Naama Amit's metamorphosis from helpful crew to stage hog, Ofri Biterman's most sensitive and dignified wandering stiff, Yuval Yanai's proper British gentleman, Ofir Weil's frantic, frenzied servant with his inventive pronunciation, Shiran Huberman's over-eager flair, Liron Baranes's cool reserve and Ori Laizerouvich's flamboyant mannerisms all make The Play That Goes Wrong an immense pleasure!
The Play That Goes Wrong
By Henry Lewis, Jonathan Sayer, Henry Shields; Hebrew version: Gur Koren, Moran Rozen, Udi Ben Moshe; Directed by Udi Ben Moshe; Set Design: Alexander Lisiansky; Costume Design: Orna Smorgonsky; Music: Yuval Yanai; Lighting Design: Nadav Barnea; Cast: Anat Ganon – Naama Amit, Yaron Belo – Ofri Biterman; Omri Ronen – Liron Baranes/Omer Etzion; Iris Confine – Shiran Huberman; Dany Gez – Ofir Weil; Avishai Burko – Yuval Yanai, Matan Ben Baruch – Ori Laizerouvich, Bacho Abayev – Yaniv Swisa.