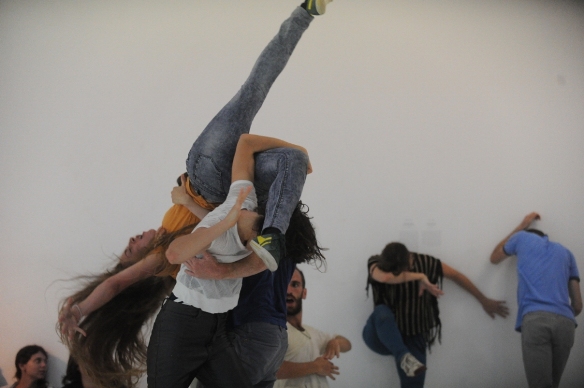 Climax by Yasmeen Godder/Photo: Gadi Dagon
The Batsheva Dance Company will host Yasmeen Godder's Climax for 4 performances in July 2015. Originally conceived as a site-specific work for the Petach Tikva Museum of Art as part of the exhibition Set in Motion, curated by Drorit Gur Arie and Avi Feldman; the work is a co-production with Theatre Garonne, Toulouse, France.
The work is intended to explore and re-define the relationship between the performers, audience and the space. According to the description, Climax is an invitation to the audience to move. The audience will be situated in proximity to the six dancers, and able to move in the space, engaging intimately and actively with the performance. Godder re-visited her archive of dance pieces in creating this work, yet it is not intended as a retrospective, yet incorporates moments and movement language from an archive of 15 years of choreography. First performed at the Petah Tikvah Museum of Art, Godder re-creates the work for each new space in which it is performed. Batsheva's Varda Studio is well suited for such intimate performances that challenge the traditional performer-audience relationship.
Performances will take place:
Friday, July 3rd at 17:30; Saturday, July 4th at 17:30; Friday, July 24th at 17:30; Saturday, July 25th at 17:30.
Tickets may be ordered via the Batsheva website.